Getting my SIM on OSGrid has been interesting. Watching Andy at GoW show how he is working with Blender to build an age for Open Uru is interesting. I'm building like crazy in in OSGrid as are several others. May be posting a journal of building in OSGrid would be interesting to others considering it.
I posted the process with links for getting a SIM up and running on OSGrid.
Getting OpenSim on the Internet-Grid
.
I did not take pictures of the process from the beginning. Mistake. But, I can start. May be I can talk some of the others into taking pictures and posting as they build...
Whatever... Sunday was a messed up day. Saturday night got a call to sort through a mod_rewrite problem that the client created. Of course none of the logic tree had ever been diagramed...

So, Sunday was mostly recovery trying to stay awake and get my hours turned upside down.
I think I got a lot done... (I can't find the How to Post Images... point me and I'll fix these) ...the following will sort of document where I have gotten to. Then I'll pick up from there in future posts.
One of things I did was get a home built. Oddly OpenSim and SL provide more vertical space than horizontal. SIM's are 256m x 256m x 4,096m... So, we build lots of stuff up in the air.
This is the house now...
All the stuff in this house is freebie stuff. I textured the walls and floors. The quality of the stuff is not bad but it certainly isn't representative of what is possible. The prim count certainly reflects the fact there are no tier fees.
The island looks like this...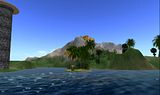 The view from one of Mat's ships anchored east of my island.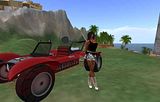 My new racer...

It runs! SL/OS vehicles are as bad as the Zandoni in Uru. I suspect they are even worse on my SIM because I have yet to install the optimum interpreter for the programming language. Also the ODE physics is not that good yet. SL's use of Havok makes things nicer, but they have problems too.
Over on Devokan...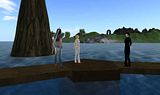 Right to left: Dot, Paislee, Nalates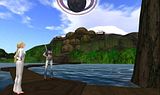 Paislee and I looking at her Pods.
In the next post I'll get to some of the building process.